STANDARD COMPONENTS OF BARDEN HOMES
One of the things Barden Building Products and our Barden Independent Dealers pride ourselves on is that all Barden homes are 100% customizable to the homeowner's preferences. Chances are if there's something you'd like included in your next home, we can accommodate it -- even if you don't see it here.
Most of our floor plans see some sort of adjustment(s) made by the homeowner. We love seeing what they come up with and making their dream home a reality.
But every good custom home needs a foundation to build from, so to speak. That's why all Barden homes have a set of standard elements that we've refined during our decades in the home building business.
We cannot stress enough: a Barden home is your home -- customize it however you like!
Floor Deck Framing
Floor Joists
Floor joists are what holds up your floor. If they aren't properly sized and engineered, your floor can become echoey or bouncy. To mitigate this, we install a flexible standard base on the span the joist covers. We'll either increase the thickness of the joists or double them up for additional strength. We'll also use an engineered product called an "I joist" for extra strength in certain applications.
Barden homes are built with 2x10 joists, or 2x12 wood joists as required, that are pre-cut to correct lengths. Steel girders are installed upon request or as needed -- a popular option to eliminate basement support posts.
Subflooring
The subfloor is the surface that covers the floor joists. Finished flooring is laid on top of the subfloor.
Barden homes include ¾" tongue & groove OSB (Oriented Strand Board) subfloor with subfloor adhesive. OSB is an engineered product made by adding adhesives to wood strands in a particular orientation and then compressing them.
The result is a product that we've found to hold up better to the elements during construction. Although our houses are enclosed more quickly than traditional homes during building, exposure to elements is still a factor we consider. Using an OSB ensures quality.
We also have traditional plywood available as well as other options.
Exterior Walls & Interior Partitions
Our Fast Track Framing System leverages the panelized construction method and allows for virtually no human error during home construction. Exterior wall panels and interior partitions are pre-built by the team at North American Truss, our manufacturing division, inside our factory using sophisticated equipment to ensure exact measurements and cuts. Panels and partitions are then shipped to the job site and installed quickly & efficiently. A home is made weather-tight in a matter of days, not weeks.
We're regularly asked if Barden homes use 2x4 or 2x6 wall panels. That's an easy answer: 2x6 construction has been our standard for more than 30 years. Thicker 2x6 walls offer a stronger structure and more room for insulation.
Of note:
We do offer 2x4 wall panels for cost-conscious homeowners. However, no homeowner has ever used that option.
2x8 wall panels are available upon request for additional insulation space.
Some Barden homes have been built with 2 sets of walls filled with spray foam insulation for extra eco-conscious homeowners.
Exterior wall panels of Barden homes are sheathed with 7/16' OSB -- the industry standard. We also offer plywood sheathing as well as specialty ZIP and ZIP-R sheathing for eco-conscious homeowners.
Siding
Future homeowners can choose siding from Alside's full catalog or go with our standard offering of its Odyssey Plus line.
We also offer siding by James Hardie for those interested in low maintenance siding options.
Requests for alternative siding options, such as wood or metal, are also available.
Roof & Ceiling Framing
After 70 years in the home-building business, we've developed an intricate manufacturing process which virtually eliminates issues like roof truss lift or drywall cracking after construction.
Future Barden homeowners may choose GAF architectural shingles, which boast a 50-year guarantee, or a metal roof from All Metal Works for their home.
Exterior Doors & Windows
We have an extensive catalog of doors and windows from multiple manufacturers that future homeowners can choose from.
Doors
Plastpro fiberglass doors are standard for main entrance doors. Homeowners can also select exterior doors from MMI Door, which offers quality name brands, such as JELD-WEN and Plastpro. We can accommodate requests for solid wood doors through supplier Simpson Door Company, as well.
Barden homes' service doors are smooth fiberglass and foam insulated with a thermal break threshold applied. Our house-to-garage doors are steel fire doors with no glass.
Locksets included for all exterior doors.
Windows
Custom windows are available from JELD-WEN's Brickmould Vinyl Window Series.
Barden also offers other window options from Jeld-Wen, as well as Pella, Andersen, and Marvin.
Garage doors
Barden homes with garages have Overhead Door's 190 Series garage doors installed by Overhead Door technicians. Garage door openers are included. We also offer selections from Overhead Door's full catalog.
Exterior Trim
Nothing dresses up your custom home like exterior trim. In fact, when our designers create your home, they include exterior trim options that boost your home's curb appeal. There's a large variety of exterior options and upgrades to choose from, including:
White aluminum pre-bent fascia
Vinyl louvered shutters
Pressure treated porch posts with white vinyl wrap
Interior Trim
Practically every part of a Barden home is customizable. Standard interior trim components of a Barden home and popular upgrades include:
Baseboard and casing
Barden offers these 2 baseboard styles as standard options:
HomNarrow MDF styles #366 & #623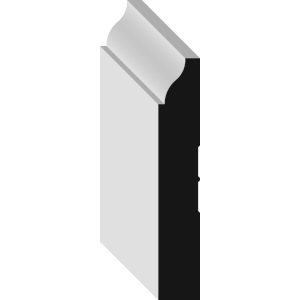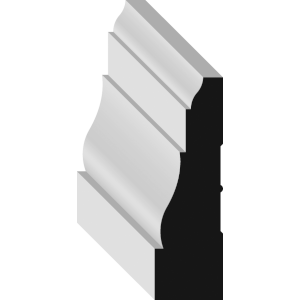 Baseboard and casing are also available in other styles as well as in solid pine or oak through Metrie. Matching crown molding can be added also.
Swing Doors
Hollow core fiberglass molded doors with primed jambs and hardware.
Upgrade: Solid core and solid pine interior doors are also available.
Locksets
Schlage J Series, any style or color.
Upgrade: All selections from both Schlage and Baldwin are available including Digital/smart locks.
Staircases & Railing Systems
All staircases and railing in a Barden home are custom made. Homeowners can choose from our extensive list of materials and finishing options to create a staircase that seamlessly complements the rest of their home.
Custom Kitchens & Vanities
Barden's in-house kitchen designer works with great local brands to design custom cabinetry and countertops hand-in-hand with our drafting staff to seamlessly deliver the kitchen of your dreams. Our cabinetry brands include Homecrest semi-custom cabinets and Candlelight custom cabinets
---
Ready to Start Creating Your Custom Barden Home?
Let's set up a time to talk!